Texas chili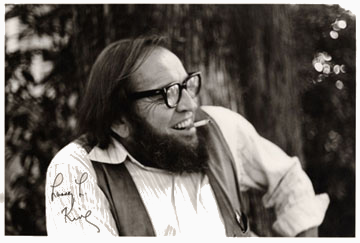 A long time ago, I read an article about chili and the "history" of chili by Larry King (the writer, not the talk show host). I copied his "Better'n Sex Chili" recipe down, but the paper got misplaced. For years, I searched - doggedly - online and offline for a copy. A few months ago, I found it. Regarding chili, Larry is quite a fundamentalist and a bit of a fantasticist. Do yourself a favor, read his article and make his excellent chili. Here's a link to the article.
Ingredients

2 lbs beef bottom round
1/4 cup bacon grease
beef broth - 12 oz
12 chile de arbol pods
1 Tsp cumin seed
1 Tsp Mexican oregano
2 large onions
6 cloves garlic
6 oz tomato paste 3 Tbl flour
2-3 cups of water - 22 oz
1 lime, juiced
Tabasco sauce
Worcestershire sauce
4 oz Longhorn Cheese
salt
black pepper
Method

Carve the steak into small chunks. De-seed and de-stem the Chile d'Arbol pods. Process them and the cumin seed in a coffee grinder. Chop the onions and garlic finely.

Heat up a 12 inch, cast iron skillet over a high flame - until roaringly hot. Remove the moisture from the round steak with paper towels. Melt the bacon grease - carefully - in the blazing skillet. Place 1/2 of the round steak into the pan. Sear it on both sides - until heathily brown. Remove the steak from the pan and repeat with the remaining steak.

Move the browned steak to a large sauce pan (preferably a non-stick). Cover the steak with beef broth. Add water, onions, chili powder, garlic, Mexican oregano, tomato paste and lime juice. Stir. Sprinkle flour over the surface of the liquid. Stir. Season with salt and pepper. Bring to a full boil. Add 6 drops of Worcestershire sauce and generous dashes of Tabasco. Lower the flame to a slow simmer.

In 1/2 hour, chop 1 oz of the Longhorn cheese. Throw the cheese, a few sprinkles of Worcestershire and generous dashes of Tabasco sauce into the pot. Stir. Repeat this procedure every 1/2 hour until the cheese is exhausted. Simmer the chili slowly for a total of 2 to 2 1/2 hours.