Crozier's Coq au Vin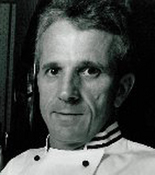 The following recipe for Coq au Vin was devised by Gerard Crozier, the late owner of Crozier's and Chateaubriand in New Orleans, Louisiana.
Ingredients

1 chicken, 3 1/2 lbs
2 oz Cognac
3/4 bottle of dry red wine
2 1/2 Tbl butter
2 1/2 Tbl flour
peanut oil
salt
black pepper

garnish


10-12 oz fresh, white mushrooms, halved
5 oz fat back or salt pork
8 oz fresh pearl onions, de-skinned
butter
Method

Cut the chicken into 8 pieces. Freeze the wings for future use. Slice the fat back into 1/2 inch thick lardons. Preheat the oven to 400 degrees F.

Use a Dutch oven or a large skillet with high sides to sear and braise the chicken. In a small bowl, combine the flour and butter - thoroughly.

Blot off the moisture from the chicken pieces with paper towels. Sear them in peanut oil until healthily brown. Degrease the pan. Remove the pan from the heat, add the Cognac then return the pan to heat. Cover the chicken with wine. Season with salt and pepper. Bring the contents of the pan to a boil. Seal the pan with a tightly fitting lid. Place it into the oven for 35 minutes or until the chicken is tender. (Rearrange the pieces every 10 minutes.) Remove the pan from the oven and the chicken from the pan. Thicken the liquids by whisking in some of the buerre manier (or a lightly toasted roux). Return the chicken to pan. Cover to keep it warm.

Blanch the lardons in boiling water for 4-5 minutes. Strain it off the water and throw them into medium hot skillet with a knob of butter. Allow 1 minute or so per side to colorize the lardons, then remove them. Add pearl onions to the pan. When onions are golden brown, add mushrooms and continue heating, until mushrooms evolve some color. Season with salt and pepper.

Arrange chicken on a platter. Drench it in sauce, and scatter the garnish over the chicken.