Crozier's French onion soup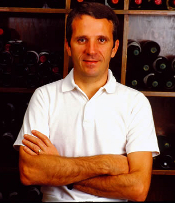 The following recipe was created by Gerard Crozier, the late master of cuisine originally from Lyon, France. It has not been altered.
Ingredients

2 Tbl oil
2 medium onions
1/2 Tsp dried thyme
2 bay leaves
salt white pepper
1 quart chicken stock
6 thick, slices of French bread
3 cups Gruyere cheese
Method

Slice the onions thinly. Heat oil in a skillet, and add the onions. Saute and stir until clear. Add the thyme and bay leaves. Cook until the onions turn golden brown. Pour in the chicken stock and simmer for 20 minutes. Season with salt and pepper to taste. Toast the bread. Pour the soup into heat-proof bowls, float the croutons on the surface of the soup and top with grated, Gruyere cheese. Place the bowls under a pre-heated broiler until the cheese melts and begins to turn brown.
note

Above, beef stock may be substituted for chicken stock and butter for oil - but at the expense of authenticity.